Superintendent News
MESSAGE FROM BRAD BROWN, LONGSHORE GOLF COURSE SUPERINTENDENT
Fall Golf at Longshore
Welcome Longshore Golfers
Fall Golf on a golf course can mean many things to a wide variety of golfers. Typically it means colder temperatures, good course conditioning with the help of cooler temperatures, beautiful fall foliage, leaves and Frost. Although some of these aspects of Fall can be annoying, Fall also surprises us with some of the best rounds that golf can offer.
Leaves- We know how annoying it can get to lose a ball or to be help up looking for a golf ball in an area covered heavily with leaves. We are doing our best to keep all of the playing areas including Greens, Tees, Fairways, Approaches, Bunkers and Primary Rough clean for golfers.
Frost- Frost is our biggest threat to turf health at this time of the year if it is not taken into consideration. It is very important to follow the frost rules and stay off the grass when frost is present. Walking or Driving on Frost covered grass will always result in severely damaged turf or death of turf. Below is a picture of the damage caused to a golf green due to walking on the frost covered putting green.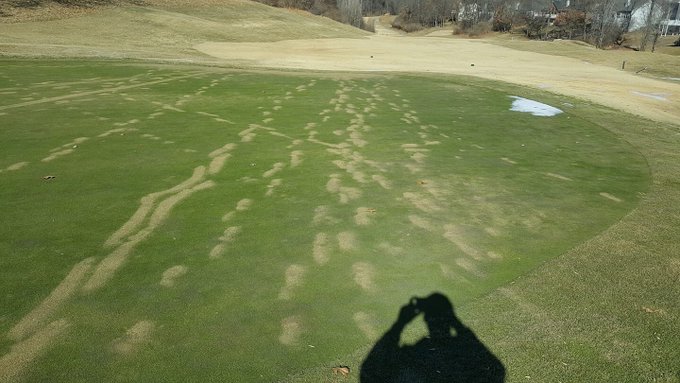 Fairway Aeration is coming to an end. All fairways have been core aerated except all Par 3 fairways. These fairways are smaller and will be aerated with our Pro Core walk behind aerator to limit any additional stress cause by the large tractor in such tight areas. Fairways 3,4,5,6 and 7 were seeded after aeration took place on those holes. Any remaining weak and sensitive areas will be spot treated in the spring when soil temperatures are warm enough to allow for seed to germinate.
Additional Notes:
Geese Populations will continue to rise as golf rounds decrease. We will continue to detour geese from landing and staying on property to our best ability. We are also doing our best to keep the course and playing areas as clean as possible from droppings left by landed/ and or fly by groups of geese.
As freeze potential weather arrives we will begin winterizing some of the freeze potential accessories on the golf course. These will include winterization of: Irrigation system, drinking fountains, ball washers, as well as bringing in all course accessories once the golf course as soon as the 2021 Golf Season Comes to an end.
We would like to remind all of you the importance of raking your bunkers, filling divots, and fixing ball marks. Raking bunkers and filling divots are an important practice that enhances the golf experience for everyone.
Repairing ball marks on the greens is equally as important as raking bunkers and filling divots. Ball marks will never fully heal if not repaired. Only aeration can repair a ball mark that hasn't been fixed by the player or the maintenance staff. The USGA provides detailed instructions on how to fix a ball mark. The instructions can be found below:
http://www.usga.org/videos/2013/03/05/usga-course-care-video--how-to-repair-ball-marks-2204995528001.html
Golfers who treat the course with care are rewarded with better golf conditions. Your golf maintenance staff thanks you in advance for your contribution.
I look forward to seeing all of you on the golf course. Feel free to speak to me anytime about concerns or questions regarding course conditions.
Brad Brown
Golf Course Superintendent